Curatorial Team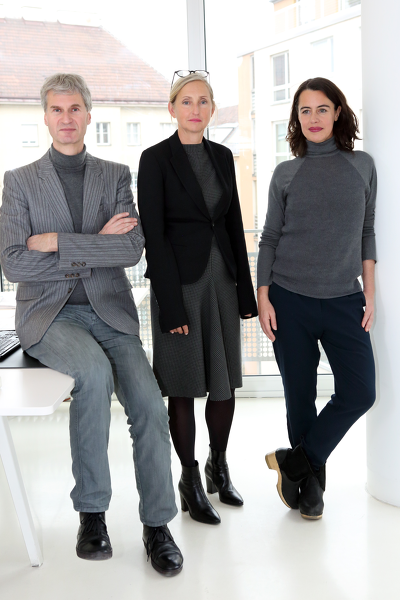 The concept for the Austrian contribution to the Architecture Biennale 2016 was developed by Elke Delugan-Meissl in collaboration with Sabine Dreher and Christian Muhr, Liquid Frontiers. Photo: Christian Redtenbacher
"It is important for me to focus on the social role of architecture and to show this at work outside the protected environment of an architecture biennale." (Elke Delugan-Meissl)
"Due to the ongoing crisis I feel that it is legitimate to use the intrinsically antiquated format of a biennale to contribute to the solution of a current problem. One key reason for this is the public nature and prestige of this event which allows us to motivate various players to get fully involved and to open up new approaches. In this way it should be possible, despite the limited time available, to present potential solutions which are a true alternative to the status quo. Ideally, "Places for People" will result in concrete pilot projects which set new standards that make it impossible, after the Biennale has ended, to return to business as usual." (Christian Muhr, Liquid Frontiers)
Elke Delugan-Meissl
As a founder and partner of Delugan Meissl Associated Architects Elke Delugan-Meissl is one of few women playing a leading role in the, until now, strongly male-dominated Austrian architectural scene. Together with her partners, the University of Innsbruck-trained architect runs an office whose, currently, 25 employees produce a strikingly large volume of work. Although Elke Delugan-Meissl is directly involved in all of DMAA's projects, she continuously devotes some of her capacity to teaching and jury roles in Austria and abroad as a means of making an active contribution to the architectural debate and promoting the commitment to quality which runs consistently through her work.
The oeuvre of DMAA has received many awards and regularly features in international exhibitions. Elke Delugan-Meissl's highest honour to date was the Grand Austrian State Prize which she and Roman Delugan received in 2015 for their "complex and, sometimes, radical work in the field of architecture." The prize-winner felt equally honoured to be appointed the Austrian Curator at the Architecture Biennale in Venice in 2016, a task to which she is dedicating herself intensely with her typical level of commitment.
www.dmaa.at
Liquid Frontiers
Liquid Frontiers is a think tank, design studio and production office with a strong cultural background and a base in Vienna's Museumsquartier. As well as the conception of exhibitions and publications in the areas of art, design and architecture, concrete cooperative projects with architects and designers are a key focus of the work of the company which was formed in 2000 by Sabine Dreher and Christian Muhr. Constantly interested in new creative line-ups and areas of activity, the two-person team has, over the years, assembled a network of excellent partners who can be mobilized as required by each project.
The ongoing collaboration with Delugan Meissl Associated Architects began in 2002, when Liquid Frontiers organised the first exhibition of the work of the architectural office in the Kunsthaus Meran under the title "State of Flux". Another important joint project was the 2009 book about the Porsche Museum which was published by Springer Verlag and conceived and produced by Liquid Frontiers. Amongst the current results of the cooperation is the "Pflegewohnheim Donaustadt". Liquid Frontiers has developed a concept for a programme of artistic interventions in this DMAA-designed building based on the special needs of the residents.
Shortly after her appointment as a curator at the 2016 Architecture Biennale, Elke Delugan-Meissl invited Liquid Frontiers to initiate a shared working process and then to act as a co-curator of Austria's contribution.
www.liquidfrontiers.com